TECHNOLOGY
TECHNOLOGY
CST Composites was born in the Marine industry, making filament wound, carbon fibre masts that were superior to their aluminium counterparts. It quickly expanded and now services some of the world's biggest companies in multiple industries. Using this experience in high-tech markets such as aerospace, defence, automotive and mining, CST's Marine division remains focused on development and innovation of marine products, the very ethos behind this company's beginnings. CST Marine strives to design and manufacture high quality filament wound tube at a cost-effective price.
Our Research and Development Team is continually working to help sailors push the envelope, working hand in hand with our elite sailing team to produce new products designed and built in our world class facility in Sydney, Australia.
CST Marine is at the global forefront of filament winding technology, with all our tubing produced using this method. Our machinery is designed in-house, allowing us unique capabilities that commercial winding equipment is unable to match.
Filament winding is an automated process of wrapping resin impregnated filaments (called rovings, or towns) over a rotating male mandrel in a geometric pattern. This is then cured under high temperature and pressure. This process has considerable advantages over conventional hand-laid and fabric-wrapped techniques, allowing for superior results in strength, weight and consistency.
CST Marine has the ability to wind any fibre angle from 0 degrees (uni-directional) to 90 degrees, contrary to one of the filament winding myths. We also have the capability to bias unidirectional fibres around the periphery of a tube to gain different properties in different planes. We have been doing this for a range of products for over 12 years.
We can produce any wall thickness, in a range of tube strengths and stiffness levels by changing the number of winding circuits and designing accurate fibre placement paths. With tapered shapes we can vary wall thickness and fibre angle along the length of the tube. Tube thickness, stiffness and weight are predicted prior to production with an accuracy of 2% by our finite element analysis (FEA) models, which we later verify with in-house testing.
Materials
At CST Marine we use only the highest quality materials; aerospace grade carbon sourced uniquely from Japan and aerospace grade, 3rd generation toughened epoxy resins.
Each batch of material entering our facility is tested in-house by our team to comply with our ISO-9001 quality control. This results in finished products that last longer in the sun with a higher temperature threshold for heat distortion and are more resistant to breakage with a higher glass transition point. In addition, using these materials means we can accurately reproduce the best products on the market.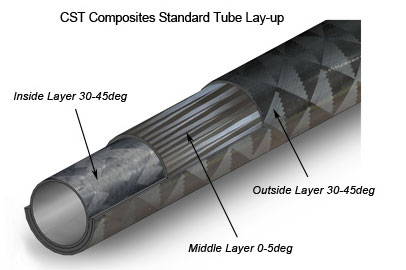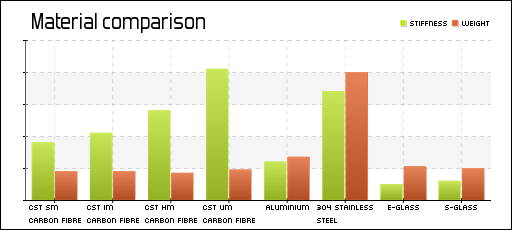 Testing
We test each batch of material that arrives at our facility on our Instron universal testing machine, by parallel coupon testing. Once any product has finished building, it is checked again on the Instron machine before it leaves our doors. This is part of our ISO-9001 certification for quality control.